Mozaik
The Mozaik seating family is made up of three principal shapes. A small soft square stool and soft rectangular bench available in two heights and a large low soft square stool.
The two heights of upholstered unit allow for different seating styles that in turn facilitate different patterns of behaviour, function and interaction.
---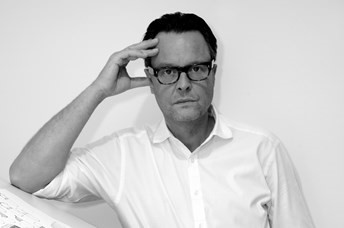 Yorkshire born Mark Gabbertas graduated from Durham University with a degree in Political Philosophy. After eight years as an account manager at the advertising agency, Saatchi and Saatchi, Mark was ready for a change. In 1990 he left advertising to follow his passion and trained as a cabinet maker.
After only two years training Mark set up on his own company and was commissioned to design the furniture for the Atelier restaurant in Soho, which won the FX Furniture in Practice award in 1995.
In 2002 Mark established the Gabbertas Studio in West London. Gabbertas' philosophy is to create character through simplicity, giving a lasting design aesthetic. This approach has earned him numerous awards including a Red Dot and a Design Guild Mark for the design of Haven for Allermuir.
The Gabbertas Studio recognises that the pursuit of simplicity can be challenging and often belies the complexity of the engineering and manufacturing techniques needed to achieve it. It has been recognised for its rigorous pursuit of design which has both elegance and a lasting aesthetic. These are not fashionable concepts, but that is the point.
Designs for Allermuir
Haven, Tommo