Back To Listings
Axyl Bench
The Axyl bench is the newest member of the Axyl collection designed by Benjamin Hubert of Layer. This collection of chairs and tables is our most award winning product to date, winning 10 prestigious international awards.
The entire collection, including the new bench, is based around an inverted Y-frame, resulting in both a high level of structural integrity and a unique design language. Each product features dynamic fluid joints and strong architectural silhouettes. Designed as a flexible system, Axyl allows specifiers, designers, architects, and design lovers to create hundreds of iterations by mixing and matching finishes, the 8 colour options, and elements.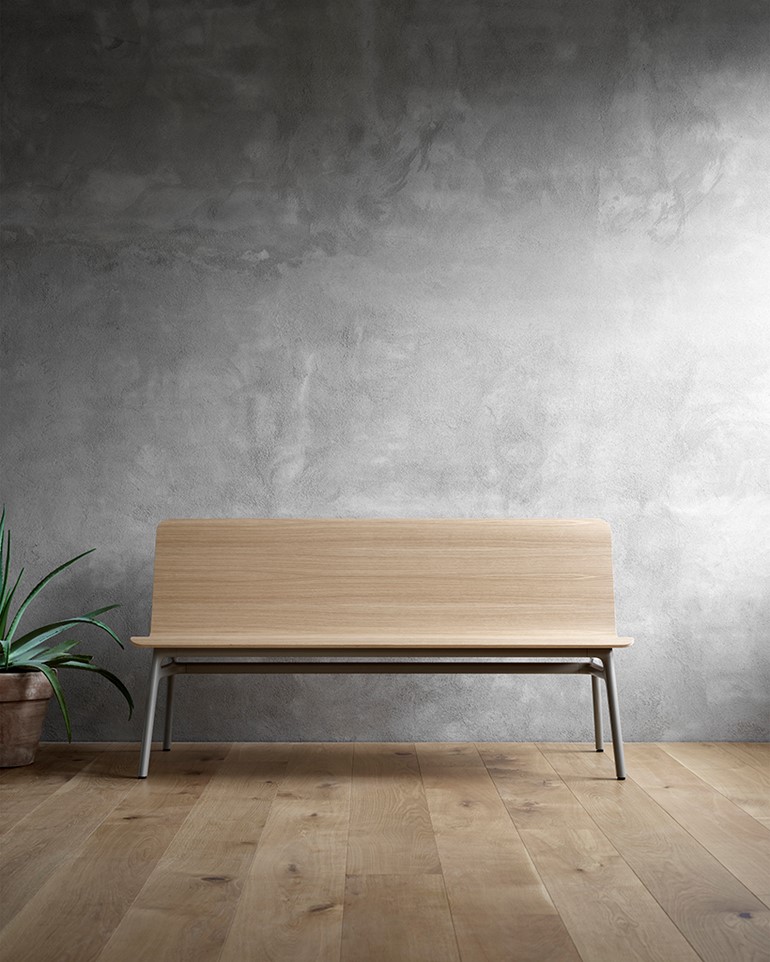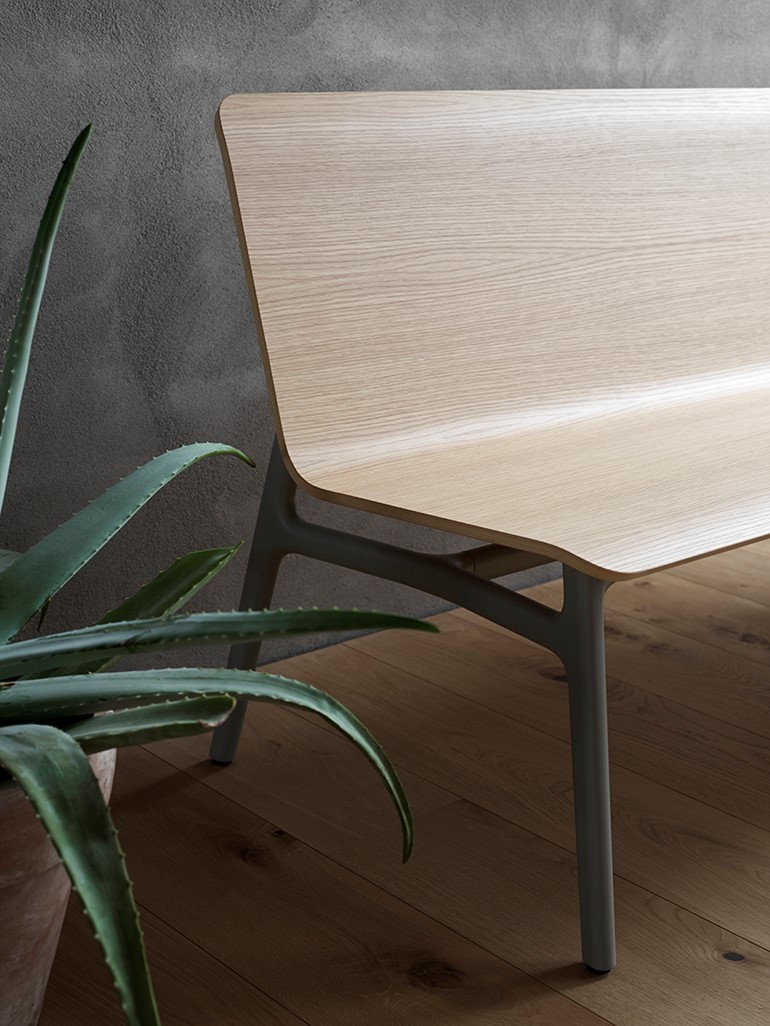 Axyl bench comprises a cast aluminium frame with a plywood seat. It is modular in format, and available with a variety of interchangeable elements, including colour and finish of the frame and seat, length of the bench, and the option of plywood or cushioned armrests and seat pads. It is also available as a fully upholstered version. The design language is inspired by the simple, pared back minimalism of classic, mid-Century Scandinavian timber furniture. The visual lightness and intersection of structural elements that defines this style of furniture has been reinterpreted and modernised using sustainable, contemporary materials to create a strong and reassuring identity. The Axyl bench was designed to seamlessly fit into soft contract spaces and across a range of hospitality interiors.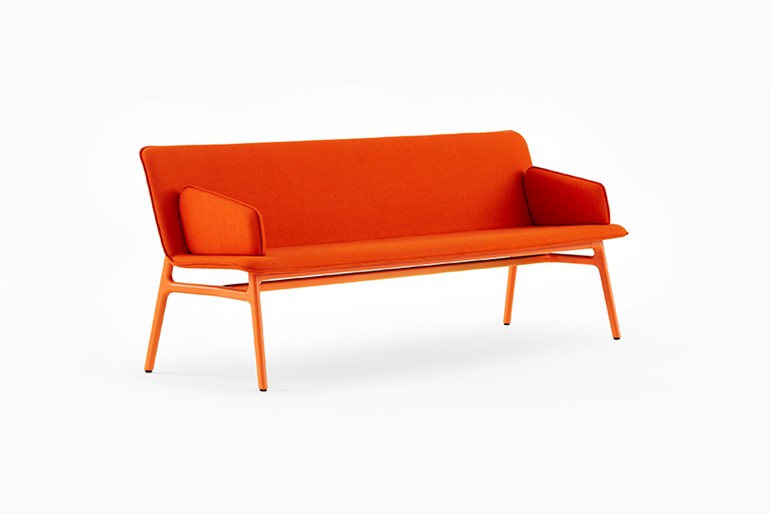 Sustainability is at the heart of the Axyl collection. The recycled aluminium frame has been carefully engineered to make efficient use of materials, while the shell is available in a number of plywood finishes, which offer a more sustainable alternative to traditional solid timber seating. Each product in the collection, including the new bench, is modular. Components are mechanically fitted together, so each piece can be efficiently packed and easily transported. At the eventual end of its life, each product can be easily disassembled for recycling.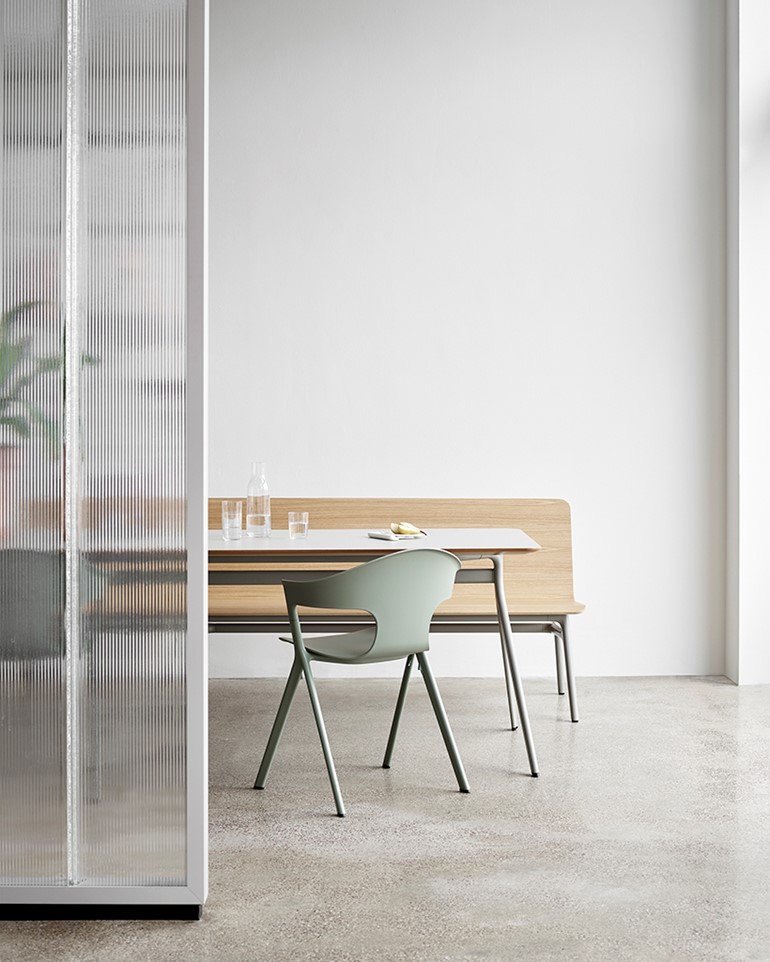 Axyl Bench previewed at the world's foremost design event, Salone del Mobile in Milan, then launched in Europe during Clerkenwell Design Week 2019 at our Creative Laboratory in London. The new addition to the Axyl family will launch in North America during NeoCon 2019, in our permanent showroom in the Merchandise Mart, Chicago.