Tibo Outdoor
Tibo is a combined bench and table system in 3 sizes for indoor and outdoor use. The objective was to find a way to provide the easiest and most natural interaction between people and in doing so demonstrate that intelligent design can beneficially influence behaviour.
Tibo is engineered around an aluminum frame designed to maximise strength and rigidity but minimise the number of elements at ground level for visual clarity, ease of installation and levelling. The base structure utilises die cast and extruded aluminum components in a number of powder coated finishes. The tops and bench seats are available in Solid core laminate or sustainably sourced teak, unrivalled as a material for outdoor use. 
---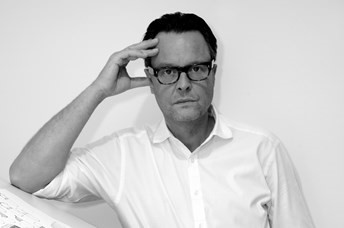 Mark Gabbertas is a furniture designer with a different perspective. After ten years in advertising, he trained and worked as cabinet maker, before establishing the Gabbertas studio in 2001. The intent is to create character through simplicity via the rigorous pursuit of designs that have both an elegance and a lasting aesthetic… it is all too easy to shock, but much more difficult to please.
Mark's approach has earned his designs for Allermuir numerous including a Red Dot and Design Guild Mark for the design of Haven and more recently a Design Guild Mark and a Silver Best of NeoCon Award for the design of Mozaik.